Shopping Cart
Order total: €0.00
Catalog
Anti Smoking
Finally a non-smoker - This really helps you to stop smoking
Everybody who has tried knows how hard it is to quit smoking. There are a lot of tips and advice out there but nevertheless it seems that there is nothing what really works to help with quitting smoking. While one needs strong willpower to quit, additional drugs may make the difference between successfully quitting and just trying to quit.
Some smokers do not want to admit that smoking is a proper addiction. This includes withdrawal symptoms, which are expressed as aggression, irritability, and nervousness. The  nicotine, which increases the level of certain messenger chemicals in the brain, is the cause behind all this. The body quickly gets used to these increased levels, which also lead to addiction very fast. When quitting smoking the body can respond very sensitively to the changes in these levels.
One of our products is Zyban. The drug Zyban and its generic versions have proven effective in reducing the withdrawal symptoms as much as possible. Zyban, in contrast other compounds against smoking, does not contain nicotine but rather increases the nicotine-controlled messenger chemicals in the brain. While other compounds try to fight fire with fire, Zyban has a different approach and enables the complete, effective cessation of smoking without nicotine.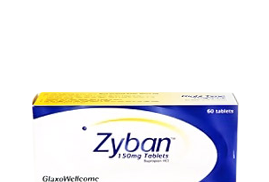 Zyban Generic
Generic Zyban - quit smoking easily.